Störungsmeldungen Internet, TV & Telefon Kabel
Upload speed unstable (Cablemax 1000)
Netzwerkforscher
Als neu kennzeichnen

Lesezeichen

Abonnieren

Per E-Mail an einen Freund senden
Dear support,
My cable 1000/50 is not able to stream video on platform like Twitch anymore.
My internet speed seems more unstable than usually causing impossibility to use properly my internet.
Important info: In February this year, your team identified "a bug on my CMTS then switched me" and it worked perfectly well until now
!
In welchem Bundesland wohnst Du?
Welchen

Vertrag

hast Du? (z.B. Internet + Telefon 100)

Red Internet & Phone Business 1000 Cable

Welches

Modem/ Router

nutzt Du?

(z.B. Hitron)

Nutzt Du ein

Leih-Gerät

von uns oder hast Du ein

eigenes Gerät?

I use the Leih-Gerät but I also tried with my own FRITZ!Box 6660 Cable that I bought myself > same problem

Welcher

Fehler

tritt auf? (Geschwindigkeit zu gering; Packetloss)

Schick dazu auch Screenshots von Speedtests (mit Datum und Uhrzeit) und Tracerts/ Pingplotter-Messungen bei Packetloss oder Ping-Problemen
Now: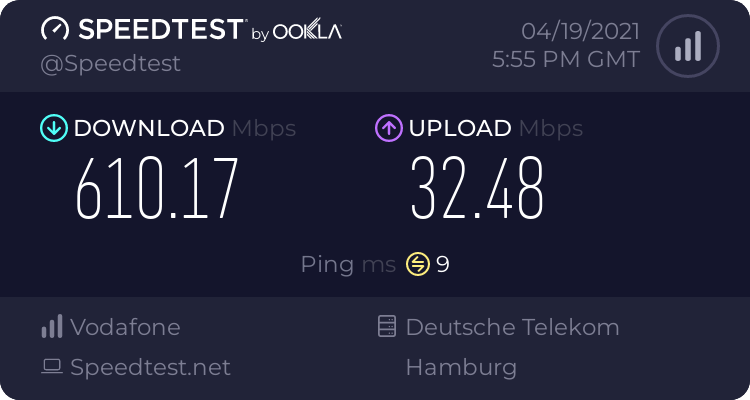 When it worked in March (same server):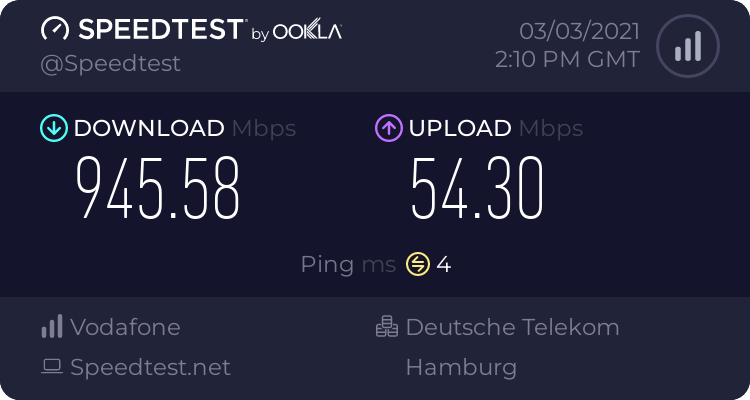 Wie

ist Dein Endgerät mit dem Modem

verbunden? (LAN; WLAN; zusätzlicher Router; PowerLAN)

LAN. Also tried with WLAN with laptop = same problem

Welchen

Browser

verwendest Du normalerweise? (z.B. Firefox)


Chrome, Edge, Firefox, same problem

Welches

Betriebssystem

hast Du auf Deinem Rechner? (z.B. Windows)


Windows 10. Also tried with Android with smartphone

Beginn

und

Zeitraum

der Störung (z.B: seit Anfang April; nur am Abend)

Beginning of April, anytime during the day

Lade dazu noch einen Screenshot von den

Signalwerten

hoch. Diese findest Du in der Benutzeroberfläche Deines Kabelrouters über

192.168.0.1

bzw. über

192.168.178.1

bei der Fritzbox.
After a fresh restart of the modem:
Welche Maßnahmen wurden durch die

Störungshotline

(erreichbar unter 0800-5266625) durchgeführt?

Did not try the hotline as I don't speak good enough german :'(
Thank you !
EleK
Moderator
Als neu kennzeichnen

Lesezeichen

Abonnieren

Per E-Mail an einen Freund senden
Hi Elek,
there should be no problem with streaming with over 30MBit/s. At the moment, everytrhing seems to be finde with the connection. Is it that bad all day long?

Kind regards
Marco
Netzwerkforscher
Als neu kennzeichnen

Lesezeichen

Abonnieren

Per E-Mail an einen Freund senden
Hello Marco
By coincidence, it is working again since this morning.
I hope it will last !
Thank you
Moderatorin
Als neu kennzeichnen

Lesezeichen

Abonnieren

Per E-Mail an einen Freund senden