Internet, Telefon & TV über Kabel
Probleme seit dem wechsel zur 1GB leitung
Highlighted
Smart-Analyzer
Als neu kennzeichnen

Lesezeichen

Abonnieren

Per E-Mail an einen Freund senden
Ich hab schon seit Monaten ein Problem mit meinem Ping in jedem Onlinespiel oder auch nur dowloads. Ich hatte den Vodafone support angerufen und die meinten zu mir das bei ihnen alles gut ist und keine Störungen sehen und meinten es liege an meiner Hardware, dann hab ich mich an supports von den games gewendet weil die mir mehr helfen als der Support hier.
Dann hab ich vom League Of Legends support ein paar sachen geschickt bekommen die ich machen kann wie zb checken ob bei ipv6 in den netztwerkeinstellungen ein häckchen ist falls ja soll ich es weg machen,
meinen DSN flushen dann gieng es für paar tage und dann wieder nicht, also hatte ich mich wieder an den support dort gewendet und sollte mir Pingplotter holen und einen test zu der ip: 162.249.72.1 mit einem Intervall von 1sec und einem Focus von 5min.


Hab die ergebnisse angehangen und die meinten dort das es an meinen Provider Liegen müsste ich bin echt stink sauer da ich von einem Free to play Spiele Support mehr hilfe bekomme als von meinem Provider den ich jeden Monat bezahle.
Hier die ergebnisse: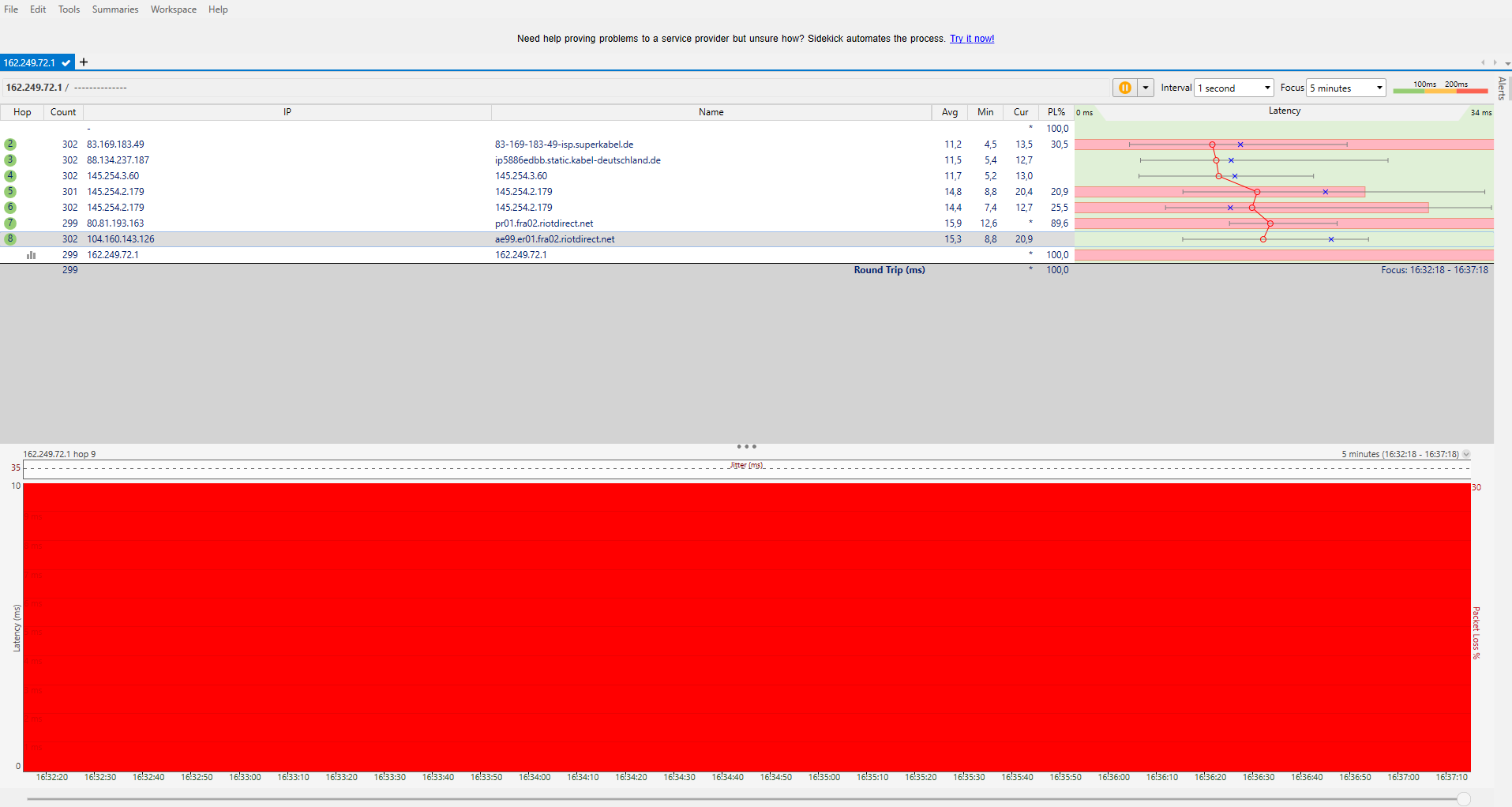 Kann das Bild nicht anhängen hier ist der Link zum Screenshot:
https://gyazo.com/2c48564525608e1244a358d132dcf0a4
-Marc